Chicken Fajita Taco Pasta Gluten & Dairy Free
Oct 26, 2021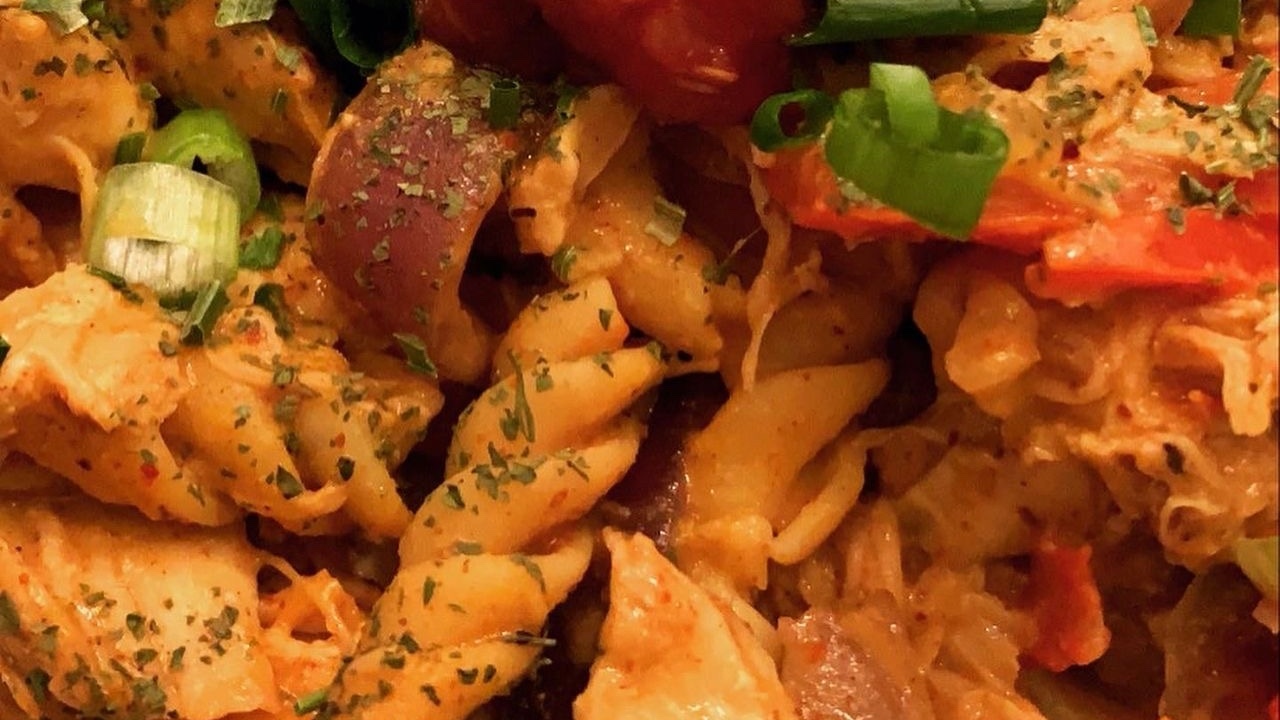 Loved this Chicken Fajita Pasta dish. I got the basic recipe from Kollie @fitfoodbound. It looked amazing and I couldn't wait to try! I did make a few changes by making it dairy free. Here's how it came together:
By:Kristi
Prep time: 20 minutes
Cook time: 30 minutes
Total time: 50 minutes
Servings: 6
Cuisine: Mexican
Ingredients:
119 g (1 medium), Red Bell Pepper, Raw sliced
200 grams, Orange, Raw sliced
400 gram, Onion sliced
6 oz, chickpeas rotini
1 2 oz, Boneless Skinless Ckicken Thighs
1 2 oz, Chicken Tenderloins
Dairy Free Cheese Sauce recipe here
The Process:
I sliced and sautéed in a tsp of coconut oil 1 small red bell pepper, one small orange pepper, and 1/2 a red onion.
I air fried 12 ounces of chicken thighs and 12 ounces of tenderloins with my own taco seasoning (you can use a packet or make your own too!), then sliced/shredded.
In the meantime I boiled one 8 ounce box of @banza rotini chickpea pasta.
I also made a DF cheese sauce with Nutritional Yeast, Lite Coconut Milk, Arrowroot powder, onion and garlic powder, & salt and pepper. I let it come to low boil and simmer until thickened.
I added the chicken to the veggies, then added 6 ounces of the noodles (reserving a serving from my one child who only likes plain noodles.), I added a few more teaspoons of taco seasoning (per taste), and lastly I mixed in the cheese sauce.
I topped mine with cilantro and salsa!
Discover how to actually lose weight and keep it off while enjoying the foods you love in my 12 week 1:1 coaching course!
Learn More
Stay connected with news and updates!
Join my mailing list to receive the latest news and updates from our team.
Don't worry, your information will not be shared.
We hate SPAM. We will never sell your information, for any reason.